---
228


REVERSE OSMOSIS WATER FILTER WITH PERMEATE PUMP + MINERALIZER 6 STAGE 100 GPD - 6 G Tank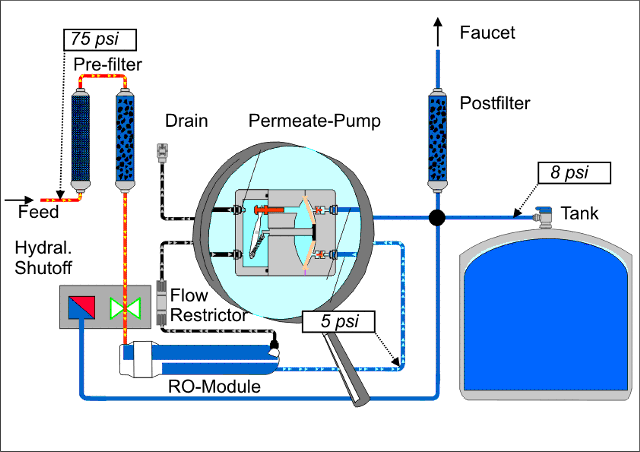 Reverse Osmosis Water Filter 6 Stage - Permeate Pump ERP 1000 - Mineralizer Filter
One of the most efficient Reverse Osmosis Water Filter System.
Stage 1 - Sediment Water Filter 5 Micron
Stage 2 - GAC Coconut Shell Carbon
Stage 3 - Carbon Block Filter 5 Micron
Stage 4 - TFC-2012-100 Membrane
Stage 5 - Mineralizer Filter 2" x 10"
Stage 6 - Post Carbon Filter
(ERP 1000) is a simple, yet revolutionary, device. Powered only by the hydraulic energy of brine water usually lost to the drain (i.e. no electricity required), the Permeate Pump forces product water into the storage tank, reducing membrane back pressure and maximizing available feed pressure. These pumps dramatically improve the efficiency of R.O. water production, reducing waste water by up to 80%. . Permeate Pumps can also bring storage tanks up to line pressure and then shut the system down when these tanks reach capacity, eliminating the need for a hydraulic shut-off valve. Other benefits include higher delivery pressures, faster R.O. water production, superior water quality, and extended Filter & membrane life.

ERP-1000 Permeate pump:

Improves Recovery rates by as much as 400%

Reduces waste water by as much as 80%

Enhances contaminant rejection

Ideal for membranes from 10 - 100 GPD

Effective for inlet pressure as low as

30 psi

Increase membrane life, lowers "TDS" creep

Fills Product Tank 4 times more rapidly

NSF Approved (Standard 58)

Includes all filter, fittings,faucet(Non air gap), 6 Gallon ROT-6 Tank,feed water adapter,drain saddle valve,color coded
tubings for easy install.
Installation Guide/Manual will be send via email.